Our Story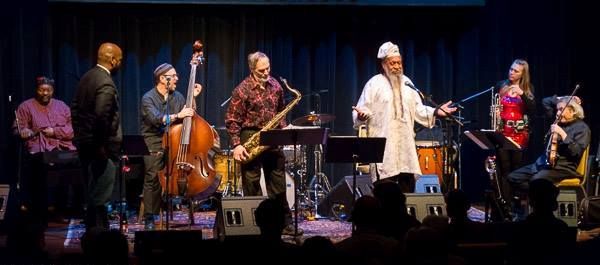 "the first time i heard you there were just 2 of you - you on the bass and someone on the piano - it was a concert at qu - many many years ago - i follow you sporadically and always enjoy your various groups and your ethics and your global concerns keep it up." Amy R., e-mail to the band

Co-founded by African-American jazz pianist Warren Byrd, and Jewish-American jazz bassist David Chevan in 1998, The Afro-Semitic Experience is a band that combines an eclectic array of styles, sophisticated musicianship, good songwriting, deep grooves, and years of friendship with a simple message: Unity in the Community. Their music has been heard around the United States—the group has performed at festivals, in churches, synagogues, colleges,  and wherever people come together to share their love and respect for community.  Their performances are celebrations of community and culture that invariably get audiences up and dancing.
 
With their unique instrumentation, solid grooves, and their ability to get an audience on its feet, The Afro-Semitic Experience has reimagined the jazz concert.   This is a band beyond category—performing an intricate tapestry of spiritual, world-beat, funk, jazz, cantorial, gospel, salsa, swing . . . soul-driven music. Their concerts are celebrations where they play great music, tell stories, and offer a positive and meaningful message: Unity in the Community. 
 
Their recording projects have garnered critical acclaim and made numerous best-of lists. They are currently developing their newest work, My Feet Began to Pray. This will be a new collection of original compositions inspired by the social and racial justice movements, along with a few classic songs from the back in the day. All imbued with passion, groove, blowing, dancing, and soaring freely in sound and spirit.
 
A documentary story about the band from Atlanta TV
The Band
THE AFRO-SEMITIC EXPERIENCE
 
BAND MEMBER BIOS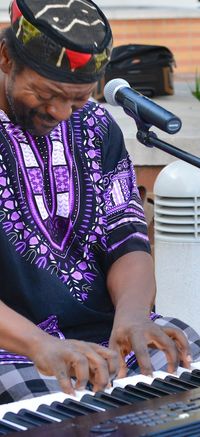 Pianist/Composer Warren Byrd is a Hartford, Connecticut native with an international touring schedule after many fruitful years playing Jazz throughout Southern New England and New York. Born in 1965 the youngest in a family of sixteen, he grew up in a musically fecund world. His experiences with performing began with singing in the church choir with his older siblings and lead to rich performing adventures in during his teen years, exposing him also to the vast treasures past and present of musical ideas. By the time he'd been awarded a full scholarship for Classical Vocal Studies at Hartt College of Music, he'd decided he wanted to be a Jazz artist. Through the listening, absorbing, practicing, and synthesizing of legacies of not only Jazz, but also Classical, Folk, and Popular music past and present, he formulated his approach to improvisation. In the last, twenty years, he has lended his musicianship to many groups and performers in Jazz, R&B, World, Latin, Pop, etc., as well as Dance and Theatre. A short list of performers would include Archie Shepp, Eddie Henderson, Saskia Laroo, Steve Davis, David Chevan, Mixashawn, Kenny Hamber, Alvin Carter, Nita Zarif, and many more. Along with David Chevan, in 1999 they founded as an expansion of their duo project the celebrated group the Afro-Semitic Experience, with whom they have recorded several albums.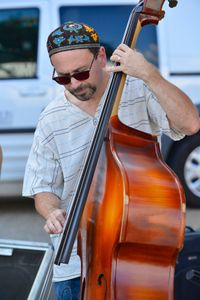 Bassist and composer, David Chevan was born in Philadelphia and grew up in Amherst, Massachusetts.  His passion for music has led him to explore a wide range of musical realms from singing in synagogue, to playing in Gospel groups, Polka bands, Klezmer bands, and Italian wedding bands, and finally to Jazz and contemporary composition and improvisation.  He has composed music for a wide range of artists and ensembles, including several collaborations with dance and film.  His most recent compositions have focused on melding jazz improvisational practice with Jewish liturgy.  In addition to performing regularly in a duo with pianist Warren Byrd and leading their group, The Afro-Semitic Experience, Chevan is an active participant in the Radical Jewish Culture movement. He has recorded and performed with Frank London and plays, composes and writes arrangements for the Ayn Sof Arkestra and bigger band, he also founded the Nu Haven Kapelye, Southern New England's largest Klezmer orchestra. He has had the opportunity to perform and record with, Joe Beck, Harold Danko, Mat Darriau, Jason Kao Hwang, Laura Wetzler, Giacomo Gates, Herb Robertson, and Cookie Segelstein. He is proud to be a member of the board of trustees of the Louis Armstrong Educational Foundation.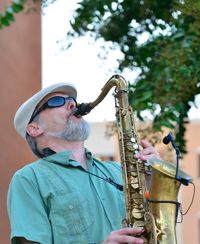 Will Bartlett has over thirty-five years experience as a professional musician, composer, arranger, and music educator. He studied with Jimmy Heath and Lew Tabackin and has performed with Frank Foster, Lee Konitz, Slide Hampton and Roswell Rudd among many others. He was a co-leader of the Joy Spring Jazz Quintet, is a current member of the salsa/latin jazz group Mikata, and leads his own eponymous groups. As a student of the Buddhist tradition of Thich Nhat Hanh, he has been given the name Compassionate Sound of the Heart.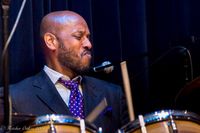 Alvin Benjamin Carter, Jr. is a preacher of The Gospel, husband, father, and educator and is a mainstay in the Greater Hartford arts Community. In addition to his duties as the drummer with The Afro-Semitic Experience and vibraphone giant Jay Hoggard and bandleader for R&B legend Kenny Hamber, he currently leads his own groups LEGACY: The Keepers of Tradition and The Alvin Carter Project. Known as "Babafemi" to his friends, his diverse music experience includes but is not limited to jazz, r&b, blues, latin jazz, gospel and world beat. Over the years he has performed with a "who's who" of hometown favorites such as Nita Zarif, Nick Mathis,Tony Harrington and Touch, Charmagne, legendary guitarist Wayne Boyd, People of Goodwill and many others. He is also a lead drummer for Sankofa Kuumba Cultural Arts Consortium where he plays west Afrikan and afro-caribbean drums. Alvin is also as an "in-demand" stage and production manager having managed many events such as The Litchfield Jazz Festival, The Wesleyan Folk Music Festival, The Legends Show of Baltimore Maryland, The Sigourney Square Family Festival, and Family Day at Keney Park and The Greater Hartford Festival of Jazz.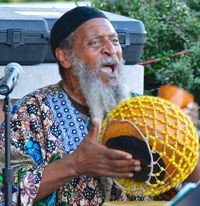 Alvin Benjamin Carter, Sr. has been playing congas for over 40 years. Alvin has been taught by, inspired by, and played with many of the area's top drummers and musicians. He has been blessed to lecture, teach, and drum at schools, colleges, community centers, cultural centers, churches, libraries, early childhood daycare centers, senior citizen centers, and correctional institutions all over the state of Connecticut. The name of "Abubakar Kenyatta Ojinga Molefi" was bestowed upon him by The Communal Family of Afrikans in the Americas and translates to "noble musician, he who drums, and is a keeper of the traditions".  He is the father of multi-percussionist Alvin Carter, Jr. and plays in his groups Legacy: The Keepers of Tradition and The Alvin Carter Project He also serves as the Griot for the Sankofa Kuumba Cultural Arts Consortium. Abu offers presentations concerning the contributions made by people of African decent to our society. He also disseminates information about the holiday of Kwanzaa which he has celebrated for the last thirty three years. Abu enjoys interacting and working with people of all ages.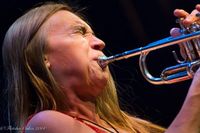 Saskia Laroo, hailed by American public and press at large as "Lady Miles of Europe", is one of the few women trumpet stylists, blowing for more than three decades. Born in Amsterdam, she began on trumpet at age 8, never dreaming of becoming a professional musician. That all changed when Saskia, turned 18, after briefly majoring in Mathematics at University of Amsterdam switched her focus to a career in music. She worked extensively in various groups from this point, primarily on upright bass, though eventually, on both bass and trumpet. Saskia Laroo combines today's music by uncontrived romps into new styles, eagerly limned as "nu jazz" or "swingin' body-music"--a vivacious blend of hip-hop, jazz, salsa, funk reggae, and world, that many other artists dare not venture. Her artistry and her groove ring vibrantly and free on her recordings journeying us through the music she has absorbed and plays from heart and soul.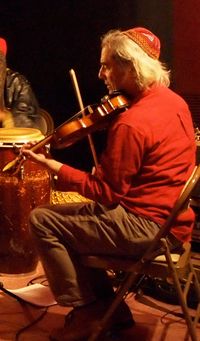 Stacy Phillips (1944-2018) was a founding member of the group and was a self-taught, internationally acclaimed resonator (slide) guitarist and violin player. He  performed with Mark O'Connor, Bela Fleck, Leon Redbone, Judy Collins, Peter Rowan, and many other of the top acoustic musicians in the world. Stacy has three solo albums and is featured artist on the Grammy award-winning album The Great Dobro Sessions. He has been called "one of the hottest pickers around" (Guitar Player magazine), "a totally fluid, totally present practitioner of American roots musics" (The Klezmer Shack on-line reviews) and "a resonator guitar virtuoso . . . stretching the stylistic limits of his instrument" (Dirtly Linen magazine). 
Stacy is the author of more than 25 books and DVD's on various aspects of his chosen instruments, including "The Klezmer Collection" and "Easy Klezmer Tunes". They are seen in the music rooms of the world's best string players.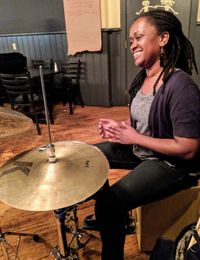 Jocelyn Pleasant is a musician and educator, originally from Bloomfield, Connecticut. Her studies in percussion began at age 9 in her school band program, and then branched out to the Hartt School Community Division and the Artists Collective (Hartford, CT). She continued her studies in Washington, DC, as a Presidential Arts Scholar at The George Washington University from 2000-2004. Currently, Jocelyn is pursuing a Master's degree in Ethnomusicology at Wesleyan University. As an educator, Jocelyn has been on staff with many schools and programs including the Artists Collective, Green Street Arts Center (Middletown, CT), Center for Creative Youth (Middletown, CT), Institute for the Musical Arts (Goshen, MA) and The Greater Hartford Academy of the Arts (Hartford, CT), teaching theory, percussion, and African/Cultural Rhythms to students of all levels. Jocelyn's performance credits on drum set and percussion are extensive and showcase her versatility and ability to play many genres of music (jazz, blues, West African, funk, reggae, Latin, etc.). She is currently the percussionist for The Afro Semitic Experience and drummer for Orice Jenkins, both based in Connecticut. She also leads her own band, The Lost Tribe, which fuses traditional West African music and percussion with other styles of music.